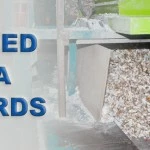 Make use of secure document shredding in Hale Barns, particularly if you aren't shredding your home office documents, as you could be a possible victim of ID fraud. ID fraud in the UK alone costs on average £3 billion every year. In 2014 alone 40% of the 25% increase of fraud was from identity fraud, information is becoming more and more accessible and this leaves it becoming less safe. When it comes to your private documents, disposing them yourself is not a good idea, if you just throw them away or place them in your recycled trash, as terrible as it sounds, it is possible for someone to dig through it and get hold of your important details.
In Hale Barns, secure document shredding needs to be taken more seriously. Simply using a household paper shredder and then placing the shredded remains in your home's recycling bin will cause for the shredded paper to be sent to a landfill and not recycled. This is due to a lot of paper mills not being capable of processing the shredded paper as its fibre length decreases and in turn weakens it and this could cause technical problems to the mill. When deciding on a secure document shredding company for you, it is best to make sure that they do everything to BSIA standards to ensure the safety of your information.
For any secure document shredding in Hale Barns look no further than Ministry of Shred. They accommodate online purchases of their "Shred Sacks" which are made of recycled materials and can hold up to 20kg, it will be delivered within 2 working days and it is assured that 99.9% of your material will be recycled following the shredding. Your documents are then picked up at your set date and tracked all the way back to Ministry of Shred where the bags are shredded to BSIA standards and a certificate of destruction is sent back to you via email. For more information regarding secure document shredding, contact Ministry of Shred.