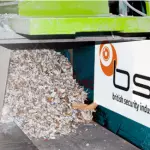 Protect your privacy with our expert home shredding service in Bolton. The biggest use of paper today is in packaging. Additionally, billions of sheets of paper are used for printing material from personal computers. In all these cases, there is a huge risk of identity theft and mining of data by unscrupulous persons. Discarded papers and packaging may contain valuable information such as your full name, address, phone number, email address, and more. Some private papers may have personal details, health records, and legal and banking information. You may throw unused cheques, utility bills, or old ID cards into the general trash. Tax details, insurance information, and property records can easily be misused by smart criminals. It is essential that this data doesn't fall into the wrong hands.
To protect the environment in Bolton, home shredding services can help. Paper can be shredded and recycled to make other paper products. This can save thousands of trees from being cut down. Many people think that having a portable shredder at home can serve the purpose of shredding. But this works only if you have small quantities of paper. Most shredders have a cut-out after about 30 minutes of shredding. When you have large amounts of paper that have to be shredded regularly, it's wiser to hire a shredding service. Our team has the experience to give you the right advice. You can order different types of secure sacks to hold your paper waste.
Our home shredding service in Bolton is a simple and convenient one.  Contact Ministry of Shred for more information about our shredding services. We offer 20kg bags that are ideal for home office security and to destroy confidential private documents. For greater volumes of paper, we offer larger sacks. You can order these sacks online. Once you order the sack online, we will send it along with a security tag. When the sack is filled to the level line, you can seal it with the security tag. We collect it via our safe collection trucks. The bag and its contents are safely shredded at our facility. We provide you with a Certificate of Destruction via e-mail.