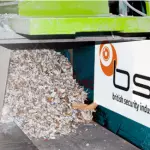 Partner with the leading paper shredding company in Hale Barns for both confidentiality and privacy. At Ministry of Shred, we ensure that your personal information doesn't fall into the wrong hands. Corporations and businesses must ensure that staff data, financial information, client details and intellectual property are destroyed once they're past their use. Individuals and businesses hold sensitive information in paper form. In the UK and across Europe, the General Data Protection Regulations offer guidelines regarding collection, storage and disposal of such data. There are several other laws in the UK, including the Data Protection Act, that mandate the proper destruction of both digital and non-digital information. There are certain recognised procedures for document disposal and several levels of checks and certifications especially for businesses. Many businesses must also keep a certificate of destruction to show that sensitive documents have been completely destroyed.
For your home business in Hale Barns, paper shredding company services are essential to prevent fraud and identity theft. Statistics show that these issues result in huge losses to the country's economy. Thousands of people fall victims  to such frauds and scams every year. Though such crimes are not as easy as online frauds, they offer great opportunities for smart thieves. For instance, every household may receive bills, tax-documents, credit-card and bank statements or solicitations. We may throw packaging materials or discarded medicine containers into the common trash. These may contain our full name, phone number, address and possibly medical information. Thieves can steal your medical identity, falsify information, get benefits and more. They can do this by simply rifling through household paper waste and also business documents.
Businesses generate huge amounts of paper waste and it's wiser to employ a professional  paper shredding company in Hale Barns. While it's easy for home-owners to simply purchase a portable shredder and get the job done, in practice, we know that most people don't have the time or patience for this. We're pleased to help, so contact us for more details. We provide  different-sized shred sacks to store your paper waste. Larger sacks are useful when you're clearing out at year end, moving office or home. When the bags are full, we arrange for safe collection.