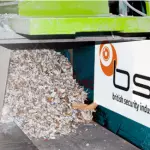 For any sized home office, a paper shredder service in Timperley is essential. It is essential because merely tearing old documents in two does not provide the same secure destruction as shredding does. It can be rather time-consuming and tedious to tear up pieces of paper into tiny pieces. In fact, it is not recommended as it is likely that all the sensitive information will not be destroyed. It is for this reason too that a paper shredder service offered by a professional company is an excellent choice. Not only will you save time and effort, but you'll have peace of mind knowing that it is correctly done.
The Data Protection Act 2018 also provides rules regarding how personal information is used. For your home office in Timperley, a paper shredder service is both convenient and professional. The way it works is simple. Purchase your shred sacks online from us. Fill them to the required level and seal with our security tag. Give us ring for a collection day and time. Our uniformed team member will collect the sealed bags from you and will transport the bags to our shredding facility. Once there, the bags are placed in our high capacity shredding machine where all your documents as well as the bag are shredded. The bags are shredded to BSIA standard EN15753. This means that the entire process, from the collection to the shredding, is 100% within their strict guidelines.
When you use a paper shredder service in Timpperley, you'll also receive a certificate of destruction. The certificate is your proof that you have followed the correct procedure. Identity theft and fraud continue to rise. There is no point in increasing your own risk. For more details on how a paper shredder service can assist you – and keep your information safe, contact Ministry of Shred. On top of that, we take our recycling responsibility seriously. Most of the paper we shred is made back into a reusable product. Additionally, our policy is to recycle cardboard, plastic and paper with a complete audit trail. Ensure both your clients' and your own personal data is safe. Use a professional paper shredding service.