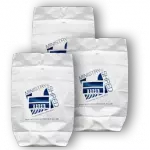 Rely on a paper shredder service in Hale Barns and be secure in the knowledge that your clients' information is safe. Many people assume that just tossing their unwanted documents in the bin means they are conveniently disposed of. They may be in the bin, but they are vulnerable to theft. There are unscrupulous people who steal information from discarded documents for nefarious intent. Many of the documents thrown out contain valuable information such as bank account numbers and more. In fact, they are a treasure trove for those planning on identity theft. A large number of people have fallen prey to these criminals. It can be avoided!
To protect your business' reputation in Hale Barns, a paper shredder service is an excellent option. It is also an easy procedure. Simply purchase your shred sack in the size you need. Fill the bag with the documents and paper you wanted shredded. When it is full, securely tie it shut with the security tag. Then schedule a collection from us. A staff member ill collect the bag from you and then transport it to our secure shredding facility. The entire bag is placed in the shredding machine and it is thoroughly shredded. It is as easy as that. On top of that, we'll send you a certificate of destruction as your proof that the documents were securely and responsibly shredded.
A paper shredder service in Hale Barns is an excellent way to keep your clients' information safe and your business reputation intact. Moreover, all the paper that we shred is recycled into usable paper products. So, not only are you conscientiously destroying pertinent documents, but you are also playing your part in the recycling effort. For more details on how we can assist you with our paper shredder service, please contact us today. We have many years of experience in the paper shredding industry. As such, we aim to offer a service that ill both meet and exceed your expectations. We're affiliated with the BSIA and ensure all our services meet their exacting standards.