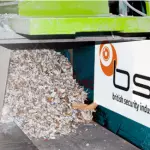 Ministry of Shred is our paper shredding company in Middleton that serves the needs of home offices, both personal and business. We include personal because running a home can generate a lot of paper and files. Certainly, not as much as the pre-computer days for some. You may no longer have recent files of paper bank statements and cancelled cheques as you once did, but you may have boxes of them from years ago you would like to destroy. You probably have piles of receipts from old home improvement projects, auto files for cars you no longer own and 20 years of personal tax preparation files. All this paperwork contains your personal information. You can't just leave them out for the rubbish collector.
Many businesses operate from a home office but most families also have a home office. For these kinds of clear outs in Middleton, our paper shredding company is the solution for protecting your personal information. We are also a good solution for adult children clearing out their parent's estate. It's a simple process. Visit our website and order one, three or five of our shred bags at a very reasonable cost. When you receive your bags you'll notice each has an identifying tag. Fill the bags and seal them and make sure the identification tag is attached. Call us and schedule a pick-up. Our representative will collect your bags at your door and deposit them into one of our vans with tracking equipment.
The secure van delivers your untouched bags to our paper shredding company in Middleton or nearby. The van is backed to our giant shredder and your bags are automatically unloaded into our giant shredder. Their tags identify the bags as yours so we can send you a certificate of destruction. It's a safe, secure and very easy process. Of course, this same method is ideal for your home-based business office. Contact Ministry of Shred and we'll explain all the details to your satisfaction. One hundred thousand people, conservatively speaking, were victims of identity fraud last year. You have an obligation to protect your clients as well as your family's sensitive information. We can help you do that.