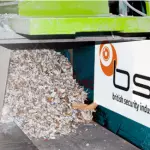 A paper shredding company in Urmston is a necessary service for a business.  In every office there is always a pile of documents that needs to be discarded.  Unfortunately, most people wait for the documents to pile up before looking for ways to sort out the mess. One man's trash is another man's treasure is an expression that should not hold weight when it comes to disposal of documents. Although, some people assume office documents can just be thrown away in the trash, it is advisable to completely destroy these documents before disposal. There have been cases of identity theft reported in companies and the source of the glitch was disposed documents. For proper disposal of documents, call the experts.
For companies large and small in Urmston, the paper shredding company of choice is the Ministry of Shred. We are among the top shredding companies in the UK and our reputation is matchless. Our services are efficient and our security is airtight. We provide disposal sacks that include a single shred sack that can hold up to twenty kgs, a triple sack, and a five pack sack. These sacks are sealed once you have put your documents and remain sealed until they are destroyed. The triple sack is ideal for high volume disposal especially during end of the year clear out. The five pack sack allows you to clear out the back log of old files that are no longer needed.
The Ministry of Shred is a top paper shredding company in Urmston. We are among the best when it comes to document disposal services. The process of disposal we use is safe and secure. You simply order and pay for the service online and a security sack and tag are sent to you. Once you fill the sack, you seal it and tag it. You can book for collection and one of our people will come collect the bag. The bag is then loaded into our security truck and delivered at our plant. Once the tag is confirmed against the order the sack with all its contents is shredded to the British Security Industry Association standard EN15713. Contact us today when you need a shredding company to effectively destroy old, unwanted documents.  Our services are safe and secure.