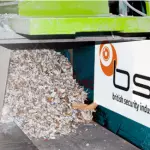 It's crucial to ensure that confidential papers are properly dealt with and if you need the help of a shredding company in Cheadle, don't hesitate to get in contact with us at Ministry of Shred. We understand the needs of companies and establishments who may have to resort to more secure ways to get rid of their confidential documents and make sure that they don't fall in the hands of criminals. ID fraud costs the government a huge amount of money per year, not to mention the amount of trouble that victims have to go through and the ordeal they have to face dealing with authorities, making calls to banks and other financial institutes and relevant establishments.
To prevent any type of identity theft in Cheadle, a shredding company will provide the secure shredding services you need. After you have contacted us, we will provide the number of secure shred sacks your business needs. Once the shred sacks have been filled, we will collect them from you at a time that is convenient. Our staff members are uniformed and carry IDs that they will show when they pick up the sacks. We will then bring them to the facility which houses the industrial shredder and the sacks will be destroyed in a matter of seconds. Please note that they won't be opened under any circumstances. Once they have been shredded into pieces, we will then provide you with a certificate of destruction to state that the paper you have left in our responsibility has been destroyed.
We take our responsibility very seriously as a professional shredding company in Cheadle. We adhere to the required regulations. Contact Ministry of shred if you are looking for a professional shredding company. We also recognise the necessity to safeguard our forests. It is our policy to fully recycle all the cardboard, paper and plastics with a completed audit trail. Many of the materials that we recycle will be turned back into usable paper products. We are proud to say that we save the equivalent of 14 trees for every tonne of paper we recycle.