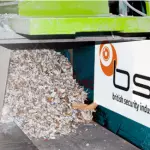 Ministry of Shred has the perfect solution for mobile shredding in Lymm. Our service meets the shredding and recycling needs for home-based businesses and small sized offices. Ours is a simple and cost-effective programme easily implemented. It works like this: You order one or more of our recycling bags online using the secure PayPal payment system. We immediately arrange for delivery to your door. As you work from home, place all paper to be shredded into the bag and when it's full, notify us and we will pick it up. The bags seal tightly and are tagged with identification traceable back to you.
Once we pick up your bag it is never opened again. In Lymm, mobile shredding bags are picked up at your door and secured in our truck. We take it directly to our shredding and recycling centre where the unopened bag and contents are sent through the shredding process directly from the truck with no handling. Our shredding facility is indoors and secured. Our drivers are uniformed and carry their identification with them at all times. All documents are shredded according to government standards for the transportation and destruction of confidential paperwork. We confirm the destruction of the documents by issuing a Certificate of Destruction directly to you by e-mail. This is your proof that you have responsibly managed the safe destruction of sensitive documents.
The good news doesn't stop there because after mobile shredding in Lymm, the shredded material is recycled into new reusable paper goods. One-hundred thousand people fall victim to identity theft each year. You do not want you or your business associates and clients to be counted in that number. Dispose of your home office documents in a secure and environmentally responsible way and contact Ministry of Shred. We want to show you how safe and easy it is to take advantage of our home office shredding solution. Not all businesses generate a tonne of paper every year. Perhaps your business is primarily conducted electronically and you don't have more than a bag or two for shredding in a year. This is the service for you as well because at least you and your clients can be confident that the security of their private documents is given top priority.