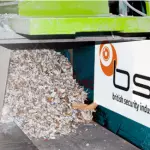 Secure document shredding in Timperley is a necessity if your business collects and maintains sensitive information. Your employees' information is confidential and needs to be protected. This is also a requirement of law. The same applies if you have sensitive information of your clients. With the ever increasing rise of identity theft, and the possible theft of pertinent business information, document shredding is the most sensible thing a business owner can do. Many employees, when not strictly supervised, will just toss the unwanted documents in the trash. This becomes a treasure trove for potential thieves looking for information they could use. How easy it is then to collect details like identity numbers, bank account details and other information that is not meant for just anybody.
Before you start panicking about the lack of security around the trash collection area, speak to a professional document shredding company. In Timperley, secure document shredding is an excellent means of completely and securely destroying unwanted documents. Ministry of Shred is the shredding and recycling company to rely on for this service. Simply order your shred sack online. Easy payment via Paypal ensures the delivery of your sack and identity tag. Once your sack is filled to the required line, contact Ministry of shred for collection. Your sealed sack will be collected by their drivers who will show your proof of identity. Your sack is then taken to the processing plant where it is completely shredded, bag and all. All shredding is done according to British Security Industry Association standard EN15713. This means that the entire process is within their strict guidelines.
Secure document shredding in Timperley ensures that your unused documents are safe from prying eyes. Contact Ministry of Shred today to find out more about correctly done secure document shredding. Once your shred sacks have been shredded, you will receive a certificate of destruction to prove that the documents are safely shredded. And as an environmentally conscious business owner, you will be pleased that your shredded documents are recycled into reusable paper products.