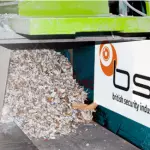 A home shredding service in Altrincham will ensure your discarded confidential documents are secure. Over 100 000 UK citizens are victims of identity fraud every year. You can avoid this with Ministry of Shred's secure document shredding and disposal, without leaving the comfort of your own home. Their trusted, effective service complies with British Security Industry Association standards and assures your complete privacy and security. Whether you are moving to a new office or simply want to clear out old documents, Ministry of Shred provides a quick, easy and trustworthy service.
In Altrincham, home shredding specialists Ministry of Shred offer an innovative and easy shredding solution. Simply order a Shred Sack, seal your documents within it, and allow them to securely dispose of it for you. A Ministry of Shred member of staff will collect the Shred Sack and transport it to their shredding facility. Every staff member is BSIA screened and authorised, and your Shred Sack will have a unique security tag verified on collection. Their vehicles are equipped with a tracking device. At the shredding site, your Shred Sack will be checked against your order once more before being loaded directly into the shredding processor. Your documents will be destroyed according to BSIA standard EN15713, and a certificate of destruction will be issued after every successful disposal. This process ensures your complete security and confidentiality by prohibiting access to your documents and the possibility of misplacement or tampering.
Ministry of Shred offers their home shredding service in Altrincham and the greater UK. With their remarkably affordable options, you can choose between a single 20kg Shred Sack from just £7, or the Triple Sack or Five Pack Sack for larger quantities. Their Shred Sacks are made from recycled materials, and they recycle all the cardboard, paper and plastic that they receive. This dedication to privacy, duty of care and environmental policies is an indication of their excellent service. You can order this fantastic service for yourself through their secure online system or by calling them today. For a home shredding service, contact Ministry of Shred.