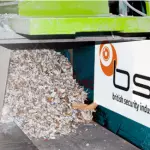 If you have not considered the importance of mobile shredding in Bolton, here is a sobering statistic.  Every year more than one hundred thousand people in the United Kingdom are victims of identity fraud.  It is not safe to dispose of your confidential household or business information in the normal recycling bin.  You do not want your personal information, or the information of your clients, falling into the wrong hands.  Apart from anything else the protection of personal information is regulated by the Data Protection Act 1998.  If you are holding or processing any personal information, you have to comply with data protection principles.
In Bolton, mobile shredding that complies with all data protection requirements, is very easy to arrange.  Ministry of Shred have devised a simple and effective process that ensures all of your documentation will be shredded in a convenient and confidential process.  Their most popular product is the Shred Sack.  It was designed for the disposal of confidential paperwork in the home or small home office.  You simply purchase a Shred Sack online through the PayPal system and a Shred Sack with a security tag will be sent to you.  Once you have received the Shred Sack you fill it according to the instructions, and seal it with the security tag that is provided.  You then arrange collection with Ministry Of Shred and a driver will call on you to collect your filled Sack.  With the Ministry of Shred system your Sack is never opened.  Your documentation is shredded within the sealed bag.
Mobile shredding in Bolton is performed quickly and efficiently.  The shredding equipment at Ministry of Shred can process in a matter of minutes what the average office shredder can do in eight hours.  There is no need to remove staples from documentation as their machines can process that, but they do request that you remove plastic sleeves as this contaminates the paper that is sent for recycling.  The Ministry of Shred will also tailor a system for you if you have large volumes of documentation.  Do not put at risk your confidential information, or that of your clients.  Contact Ministry of Shred today for more information about mobile shredding.