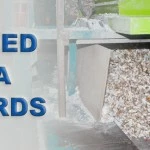 Secure Document Shredding in Bramhall is an absolute necessity these days as information theft is on the rise and who knows what could go wrong if your sensitive data ended up in the wrong hands. You could have your competitor reading your client lists and depleting your clientele or you could lose a contract if your competition gets the specifications of the project. You will need a company that has a fail-safe system in place that you can trust to safely and completely dispose of your documentation. It would be an added bonus if the waste was discarded in a way that is safe for the environment.
In Bramhall, secure document shredding is done with the utmost of security in mind by Ministry of Shred. After they have picked up your documents for safe disposal, they do not leave the locked vehicle until they have been safely parked inside Ministry of Shred's premises. All of their staff are easily identified in their neat uniforms and they will present themselves with proof of identification on arriving at your premises. When they pick up your sealed, filled bags, you can rest assured that they will never be opened again as the bags and their contents are shredded together, unopened. You can be sure that the contents will be destroyed beyond repair and the resulting pulp will be recycled and repurposed. To make it even more environmentally safe, it would help if anything plastic such as plastic sleeves or files is not included to be shredded. The Ministry of Shreds' system is to be trusted as it complies with the stringent British Security Industry Association standard EN15713. It is good to know that your documents will not be used for a landfill project where your shredded documents will be disposed if using municipal refuge services.
Secure document shredding in Bramhall is convenient by means of the secure services  Ministry of Shred offers. They use a bag and tag system to collect and dispose of the contents safely and securely. The bags come in convenient sizes to accommodate all of your secure shredding requirements. If you require more information about secure document shredding, contact Ministry of Shred.