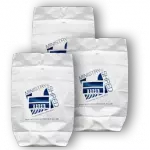 A shredding company in Didsbury is necessary for your peace of mind and your clients' security.  There were over 100 000 incidents of identity theft and fraud in the last year alone.  You cannot afford to have sensitive documents fall into the wrong hands.  Our very professional service can help you stop any chance of this happening.  We will supply you with secure bags, one for a home office with not too many documents, and bags for bigger businesses.  These come with a security tag to track your documents through the collection by our secure collections staff who are all vetted and will produce their identification, to the transporting of the documents to our secure yard by our collection van which has a tracking device so that we can follow it on its journey.
In Didsbury, a shredding company supplies the added benefit of your document bag never being opened. Once it has been scanned and your security tag identified for the records it is sent in the bag through to the massive shredding machines.  These chop the paper so fine that there is no chance of any information being able to be pieced together. From there it is sent to the recycling companies to be broken down and remade into many useful items, saving many trees from destruction. We will send you a certificate of destruction confirming the proper legal destruction of your information.
A shredding company in Didsbury is not an option but a real necessity.  With our secure service you will have no doubt that the documentation has been completely destroyed.  The certificate is a legal requirement and safeguards you from any claim by your clients that there was leakage of information or identity fraud by your office.  You cannot be too careful and shredding at the office does not protect you from accusations or information leaks.  A shredding certificate does, and cannot be argued with.  Be safe and secure and assured that you are doing the right thing. For more information about a shredding company, contact Ministry of Shred.