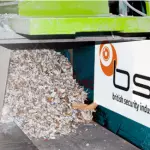 You need an honourable paper shredder service in Cheadle if you have sensitive information that needs to be shredded promptly and permanently. There is a growing trend of the lucrative crime of ID theft and if your documents aren't handled correctly or if your documents end up in the wrong irresponsible hands you could end up with a serious security threat to your business. It is not good enough to just have your documents shredded, one should take on the responsibility of ensuring that everything is disposed of in an environmentally compliant way.
In Cheadle, a paper shredder service that has a respectable reputation is Ministry of Shred. They will securely dispose of your material in such a way that it has no or little impact on the environment. They have devised a secure method for the packing, picking up and destroying your sensitive information. After an order has been processed a secure bag and a security tag will be dispatched to you. All you have to do is fill the bag and seal it using the security tag. The bag is then fetched and transported to their premises all the time being tracked by their security system. Once at the depot, the vehicle is only opened inside the receiving building. Your information, safe and secure in the security bag, is disposed of to the strict British Security Industry Association standards and guidelines. This gives you peace of mind when it comes to knowing that your information is being handled correctly.
A dependable paper shredder service in Cheadle can be found at Ministry of Shred. They meet all the industry rules and regulations for the secure, environmentally friendly removal of confidential papers. Don't hesitate to give them a call for sound advice or to order a package that suits the size of your waste. Then all you need to do is pack your documents and wait for the pick up to be verified by their secure system.  Ministry of Shred will see to it that your confidential material is removed professionally. For more information about a paper shredder service, contact Ministry of Shred.