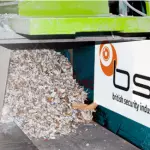 Mobile shredding services in Middleton is a valuable and important service offered to those who wish to safely dispose of old and unwanted documents. With the ever-increasing rate of criminal activity concerning identity theft and fraud, the safe disposal of your personal documents is not something to be taken lightly. What a disaster it could prove to be should you discover unknown charges made to your credit card or invoices for purchased items that you have never heard of arriving in your mail box.
In Middleton, mobile shredding services are professionally provided by Ministry of Shred. Regardless of the type or number of documents you need disposed of, Ministry of Shred's mobile shredding services can take care of this for you. Their high volume shredder is state of the art and can shred your documents in a fraction of the time that you could in your home office. They are BSIA approved, guaranteeing peace of mind regarding the integrity of their services.
Mobile shredding services in Middleton are a convenient and secure service you cannot do without. You will wonder how you managed to complete the shredding tasks before you signed up with them. Using their services is easy. Discuss your shredding needs with them, order yourself seal bags online and schedule a collection date. All you then have to do is pack your ready-to-dispose-of paper into the bag and leave everything else to the professionals. At a pre-arranged time, the sealed bags are collected by a courteous and uniformed member of their staff. The pick-up of the self-sealed bags is secure and the pick-up truck's movement is monitored back to the security shredding premises where the shredding will take place. A certificate of destruction is issued to you so you know the old papers are securely shredded. If you are interested and would like to find out more about convenient and safe mobile shredding services, contact Ministry of Shred.