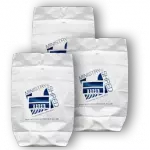 Mobile shredding in Warrington has become a particularly sought after service. Anybody who has been involved in identity theft wishes they had been more careful with the disposal of their confidential documents. There are devious people who make it their business to rummage through bins to get hold of personal data which they can use to perform identity theft. It makes no sense to use just any one who claims to be professional shredders. Make sure you make use of reputable shredders who can show you their proof of identity. The Ministry of Shred's staff are security screened to the British Standards and they make use of marked and identifiable recyclable sacks for the disposal of sensitive documents.
In Warrington, mobile shredding becomes a regular option for many who rely on their services. Ministry of Shred comes to your premises to assess the layout and particularly the areas where confidential material is generated. They check out the volumes as well. These visits are important because they can then prepare recommendations for a secure storage method suited to each office environment. They tailor a solution that is effective for each of their clients.
With mobile shredding in Warrington, you can be sure of a thorough service. Nothing is left to chance. Ministry of Shred has excellent shredding machines which make short work of sacks of confidential documents. Because of the security tag provided with their sacks, 100% safety and confidentiality is guaranteed. These security tags are made from nylon and equipped with an acetyl lock insert for smooth insertion. The bags are designed in such a way that they are shredded and recycled, ensuring your bag is never opened. Once documents are destroyed, customers receive a certificate of destruction. The war against identity theft ends with Ministry of Shred. If you are looking for confidential mobile shredding at reasonable prices, contact Ministry of Shred.