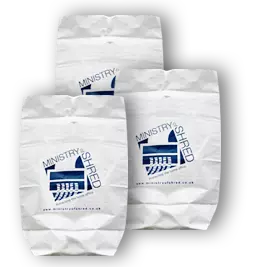 If you require Secure Home Shredding Sale, look to Ministry of Shred; Protecting the home office with a comprehensive service that will pick up and destroy your unwanted documents in a secure and safe manner; alleviating the headache of you trying to shred your own documents. We can provide a tailor made solution which is flexible and above all thoroughly professional and what's more, it adheres to the Data Protection Act 1998; which applies to all personal information.
Whether its an enquiry from Sale for secure home shredding or anywhere throughout the Cheshire area, its important to be aware about how common 'ID fraud' is, in the UK. Its suggested it cost's the country £3 billion a year; with over a 100,000 people-last year-victims of ID fraud. That's why it is imperative you deal with your home office 'clear outs' in a secure manner.With undoubted expertise within this sector, we offer a first rate service that is fast and secure; for all your home office shredding needs.
Withe secure home shredding Sale project, our bags are exceptionally strong recycled bags; able to withstand any volume of paper. Our 'shred sack' -at 20kg-is still our most popular requested bag for home office security but you can also choose the 'triple shred sack' for a more substantial disposal or the 'five pack sack' which is ideal from removing a bag log of old files, office clear out or loft space. Whatever you choose, you fail not to be impressed with the overall commitment to service Ministry of Shred provide.