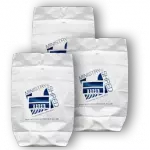 Choose a professional company for a home shredding service in Hyde that meets all your requirements. Fraud and identity theft crimes continue to increase. As a small business owner, it is your responsibility to ensure that your clients' pertinent information is correctly disposed of when it is no longer needed. To save you time and provide the assurance that it is correctly done, make use of the services of a professional shredding company. If you usually use your home shredding machine, you'll know that the process takes time and can be inconvenient. Our expert services are a great alternative. We offer a home shredding service that will give you peace of mind. It is both safe and convenient.
For small business owners in Hyde, a home shedding service removes the risk of theft and fraud. Our process is an easy one. Purchase your shred sack online. When you receive it, fill it with the unwanted documents. Seal it with the identity tag and then give us a ring and schedule a collection. Our uniformed team member will present his ID on arrival, and then take your sack to our shredding facility. Here it is placed in our high density shredding machine where the entire sack is thoroughly shredded, bag and all. This is an excellent way to ensure your old documents are properly disposed of. We will save you time and hassle, and provide you with peace of mind. On completion, we will send you a certificate of destruction as your proof of a secure and through shredding process
A home shredding service in Hyde from our team is an affordable option.  When your shred sack is full, we'll collect it from you at a time that best suits you. We also have different sizes of shred sacks. If you need a large number of documents shredded, we can assist. Contact Ministry of Shred today and find out more details about our home shredding service. Our services ensure that you are maintaining the integrity of your clients' information along with recycling unwanted paper. It is an excellent solution for all small business owners.