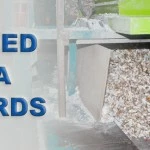 Safeguard your privacy and safety with our premium-grade home shredding service in Hyde. You receive large amounts of information on paper in the form of bills, notifications, receipts, personal letters, documents and more. Most of these papers can be ignored, and the most common way to dispose of them is to throw them in the waste paper basket. Some people prefer to store these papers because they may be necessary at some point in the future. For this reason, garages, attics and basements become cluttered with piles of paper in cartons and files. Heaps of paper gather dust, attract pests and mould and become a haven for vermin. Burning paper is no longer allowed in most countries. The simplest way to get rid of it is to get a shredder and tackle the mess.
This method could work if you have small amounts of paper and you have the time to spare. In Hyde, home shredding service providers can do the job more easily. These papers may seem like waste to you. For a malicious thief or miscreant, they are a treasure trove of information. Your full name, address and phone number, private correspondence, insurance details, medical history, tax details, investments and bank records can be used for a variety of nefarious reasons. Identity theft, bank fraud and cheating are some of the crimes that are very common today. This is why it's essential to get rid of personal papers in a safe way. Sensitive information can be completely destroyed so that others don't have access to it.
Using a professional home shredding service in Hyde helps to save time, effort and cost. You don't have to waste time removing staples, clips and pins and shred papers one at a time. Our machines can do the job in minutes. We offer personalised services to align with your unique requirements. Get in touch with Ministry of Shred  attoday for more information.  The UK has a General Data Protection Regulation in force. This ensures that data should be protected from criminals. Make sure that your private information doesn't fall into the wrong hands.