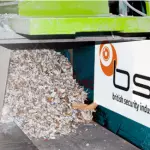 Use mobile document shredding in Macclesfield to keep abreast of your company's confidentiality policies. Document shredding is a safe, secure way to ensure that private and confidential documents are disposed of correctly. It also helps reduce storage overflow and waste.
With the threat of "dumpster divers" and other nefarious folk trying to procure your confidential documents in Macclesfield, mobile document shredding is an effective method to remain safe from identity theft, fraud and information leaks. Ministry of Shred makes this process as simple and safe as possible. You can order one of their shred sacks online using their secure PayPal system. A single 20 kg sack is available, or for larger requirements there is the triple sack or five pack sack option. Once you've received your sack, simply fill it with your documents to be disposed of and seal it. Contact them to discuss your requirements and arrange a collection. A uniformed driver will arrive to collect the sack, and he will always provide his proof of identity and confirm your order with the security tag you received when ordering your sack. Your sack will be driven straight to their shredding facilities in a vehicle equipped with remote tracking for additional security. Once at the facilities your tag will be verified once more as an extra precaution before your sack is shredded.
Mobile document shredding in Macclesfield has never been easier for large businesses and home offices alike. Contact Ministry of Shred for a mobile document shredding service second to none. All their staff are trustworthy and security screened according to British standards, and provide a friendly, professional service. All their work, from collection, control and management to the destruction of your documents, is compliant with the British Security Industry Association standard EN15713. Dispose of your confidential documents efficiently and securely with Ministry of Shred.