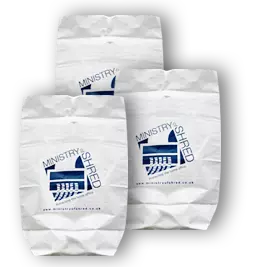 Looking for Secure Shredding Cheadle for the home office? Then help is on hand with Ministry of Shred's superb home shredding service which combines security with the utmost in professional customer service to ensure your sensitive information is dealt with in an effective manner. Whatever your requirements are, they can offer you a tailored solution that is cost effective and will leave you totally satisfied and with peace of mind your documents have been destroyed correctly.
Whether its an enquiry from Cheadle for secure shredding or anywhere throughout the Cheshire area, its important to be aware about how common 'ID fraud' is, in the UK. Its suggested it cost's the country £3 billion a year; with over a 100,000 people-last year-victims of ID fraud. That's why it is imperative you deal with your home office 'clear outs' in a secure manner.With undoubted expertise within this sector, Ministry Of Shred offer a first rate service that is fast and secure; for all your home office shredding needs.
A secure shredding Cheadle job will follow a step by step procedure designed to be simple but effective for the customer: Using their secure PayPal payment system, then once you have received your sack and security tag; fill the bag to the level. Having secured the bag with the security tag, ring Ministry of Shred to schedule in a collection-all bags are designed to be shredded without having to be opened-and a driver with ID will come and collect. From here, the sack(s) are taken to their security depot-by tracked vehicle-to be destroyed in high capacity shredders with you receiving a certificate to confirm the process has been carried out correctly.