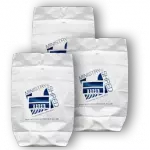 Consider our paper shredding company in Urmston if you need to improve the protection of your confidential documents. Paper shredding services also ensure that you are compliant with data privacy laws. These services ensure the privacy of stakeholders' information. Paper shredding gives you the peace of mind that your data will not be accessed by unauthorised people. Paper shredding also helps to remove unwanted files from your office and create space to enable you to work effectively. These services also enable you to comply with environmental regulations.
We provide cost-effective, secure, and compliant document destruction services. In Urmston, our paper shredding company is famous for providing discrete and reliable services. We serve small and large businesses across the country. The different categories of products that we offer include shred sacks, triple sacks, and five-pack sacks. The shred sack is a recyclable 20kg sack ideal for the disposal of paper files in your home office, while the triple sack allows for the destruction of high-volume documents. Our process is simple and fast, you begin by ordering online to obtain a security sack and tag. All you need to do is fill the bag to the indicated level and seal the bag with the security bag provided.
We guarantee you secure and efficient services from our paper shredding company in Urmston. Our staff are security screened to British standards. We also provide paper shredding solutions to businesses in need of regular destruction of confidential documents as well as organisations who require one-off services. We offer collection, transportation, security verification, and destruction services. Our drivers collect your files from you after proper identification. We have trucks fitted with trackers to transport your goods to the paper shredding facility. Your sack is verified against your order once it arrives at the destruction facility. Contact Ministry of Shred today if you have documents that need shredding. The confidentiality of your files is maintained from the collection, and transportation to the point of destruction.