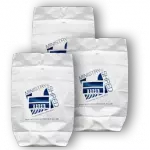 Use a professional paper shredding service in Altrincham to ensure the safety of your clients' personal data. No one imagines being a victim of ID fraud, and yet it still happens. As the owner of a business, regardless of its size, it is your responsibility to ensure the protection of your clients' information. Most businesses discard unwanted paper and documents after a certain number of years. This is part of good business practice. It,  however, must be done correctly. One of the most efficient ways to destroy unwanted paper is by shredding it. It is likely that you have an office shredder as part of your office equipment. It is also likely that this shredder is capable of shredding only small amounts of paper at a time.
We can assist. In Altrincham, a paper shredding service takes the burden of destroying unwanted documents from you. We offer an expert paper shredding service, designed to give you peace of mind. First you'll need to visit our website to order your own shred sacks. These are the sacks you'll use to fill with your unwanted documents. They are sealed with a tag once they are full. Thereafter, give us a call to arrange for a collection time for the shred sacks. Once our uniformed and identified driver collects the sacks from you, they are taken to our shredding facility. The entire bag with your documents is then shredded by our industrial sized shredder. We'll send a certificate of destruction to you once the process is complete.
A paper shredding service in Altrincham can take a weight off your mind. No longer will you need to worry about your clients' personal information being stolen. For more details about our expert paper shredding service, contact Ministry of Shred. We take our role in recycling seriously, and as such, all the paper that we shred is recycled and made into usable paper products. Help keep your important information secure, and do your bit for the environment at the same time.