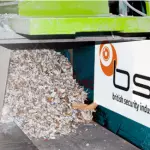 Use our services for mobile document shredding in Lymm if your company needs to dispose of obsolete, yet important documents. At The Ministry of Shred, our specialisation lies in secure and mobile document shredding. The way it works is very simple, and quick too. Once you have a large amount of paper, confidential as well as other non-confidential, you can give us a call at the Ministry of Shred and place an order for the number of shred sacks that you will need.
Once you fill out the sacks and tie them securely, you can give us a call and set up a collection time. In Lymm, mobile document shredding is safe and secure. You can rest assured that your sacks will not be opened at any stage. In fact, all the sacks will go into the industrial shredder as you would have delivered them to us. You also don't have to worry about staples or paper clips, as they will go through the shredder as well. This is to ensure maximum security and maintaining our clients' confidentiality agreements that they have with their customers. ID fraud, stolen credit cards, and digital theft are all very serious crimes that sometimes cost the victims more than just money. They are very tough crimes to prove, and they can be time-consuming as well. Therefore, if you are looking for a reliable company to shred all your documents, you will be pleased to know that we can tailor our solutions to your specific needs. We can do site visits, check the layout of the office and provide secure cabinets that are cost-effective until you are ready to give us a call for collection.
Whether it's a home office or a company with huge amounts of paper, you can always rely on us for mobile document shredding in Lymm. For more details about our mobile document shredding, contact The Ministry of Shred. All the collected papers will be shredded and recycled, and repurposed into useful everyday items. With every tonne of paper that we recycle, we save about 14 trees!