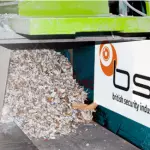 To protect your home office, you need someone for secure mobile document shredding in Wigan to safely remove all your documents without a risk of ID theft. ID theft is a serious issue in the UK and a loss of as much as £3 billion as a result has been reported. Avoiding this security risk requires safe removal of all your documents, without interruption and the chance that your documents will be stolen and abused on the way to the shredding and recycling plant. Ministry of Shred is a company dedicated to the security of your home office, with sophisticated technology which will prevent the leak of personal information when it comes to shredding your documents.
In Wigan, mobile document shredding is an essential service. Be aware that your documents may include everything, from your personal basics to credit card numbers and PIN's. To avoid theft of this vital information, you need a completely safe solution, which will prevent you from falling victim to identity theft crime and make you sure that all the documents you no longer need are thoroughly destroyed.
Secure mobile document shredding in Wigan by Ministry of Shred is easy and convenient to use. All you need to do is to order a Shred Sack, or more, depending on how many papers you want to get rid of and book a collection for when the sacks are full. Once collected, your documents will be safely transferred to a shredding facility in remotely tracked vehicles. When shredding is done, you will receive a Certificate of Destruction via email. All Ministry of Shred drivers will show you their proof of identity, and once the sacks are loaded, none will ever touch them again. The truck is directly backed up to the shredder, where the shred sacks are offloaded with no need for human intervention. Your documents are shredded in accordance with British Security Industry Association standard EN15713 which guarantees the entire procedure, and all the material from shredding is recycled.  For secure mobile shredding, contact Ministry of Shred.