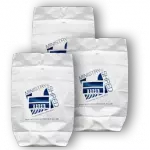 Mobile shredding in Wigan is a sought after service that has become popular. Ministry of Shred was one of the first to produce the shred sack which today has become an extremely popular product offered for home office security. The 20kg sack which is exceptionally strong is perfect for disposing paper files and is recyclable. The 20kg sack is convenient and secure and ideal for bottom drawer clean outs. Within 2 working days the sacks are delivered to your door which is included in the package price, all which is required of you is to fill the sack and return it. For commercial office shredding the company will pay you a visit in order to assess the layout and the volume produced. They will in turn offer a recommendation for a secure storage solution that is well suited and effective to each office environment.
In Wigan, mobile shredding has become a regular option for both home and commercial offices. One has to be careful and take extra precautions to avoid confidential documents landing in the wrong hands and used for identity theft. Use reputable shredders such as Ministry of Shred whose staff are security screened according to British standards. All their shredding sacks are marked and identifiable recyclable sacks which ensure they leave nothing to chance and provide a thorough service. The company has state of the art shredding machines which ensures the shredding is done fast and efficiently and nothing is left to chance.
Mobile shredding in Wigan is completely safe and confidentiality is guaranteed as the sacks come with a security tag that is made from nylon and comes with an acetyl lock insert for easy insertion. Once locked the bag is never opened and is shredded and then recycled. There are triple and 5 pack shred sacks that are designed for disposal of high volume that are great for end of year clean out or when moving offices. When all bags are destroyed, a certification of destruction is issued to all customers. If you are looking for mobile shredding that is reasonably priced, contact the Ministry of Shred or you can book your collection online.