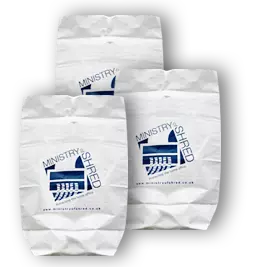 Home shredding in Macclesfield can be completed by the Ministry of Shred. This is a company that specialises in the shredding of old unused documents that are confidential. Most people who work from home don't think that they can fall victim to identity theft and don't worry about having their confidential documents professionally shredded. The Ministry of Shred will handle your documents throughout its shredding process in a secure manner. No one outside of the company or persons except authorised personnel are allowed inside the premises near the shredding area. Shredding is done in accordance with the British Security Industry Association standard EN15713.
In Macclesfield, home shredding can be done using the professional and secure services of the Ministry of Shred. How the process works is that you can order shredding bags from their sales department. The shredding bags can be bought acoording to your requirements, in batches of one, three or five bags. You then fill the bags up to the fill line and seal the bags. They will send their receiving staff to your premises to collect the bags and take them back to their shredding facility. The filled bags are then loaded into the shredding machine. After the bags and the documents inside are shredded, the paper is then shaped into blocks which are recycled for use elsewhere. After all the material has been shredded, a certificate will be sent to you, confirming that your material has been through the shredding process.
Home shredding in Macclesfield is a cost effective and secure way of ensuring old, unwanted confidential documents are destroyed. A good thing about this service is that the shredded material is re-used elsewhere, promoting recycling. If you would like to find out more about confidential and secure home shredding services, contact the Ministry of Shred today.